About IREIT Global
IREIT Global ("IREIT") which was listed on 13 August 2014, is the first Singapore-listed real estate investment trust with the investment strategy of principally investing, directly or indirectly, in a portfolio of income-producing real estate in Europe which is used primarily for office, retail and industrial (including logistics) purposes, as well as real estate-related assets.
IREIT's portfolio comprises 5 freehold office properties in Germany, 5 freehold office properties in Spain and 27 freehold retail properties in France, with a total lettable area of approximately 384,000 sqm. The portfolio has an occupancy rate of approximately 88.3% and a valuation of approximately €950.5 million.
IREIT Global is managed by IREIT Global Group Pte. Ltd. (the "Manager"), which is jointly owned by Tikehau Capital and City Developments Limited ("CDL"). Tikehau Capital is a global alternative asset management group listed in France, while CDL is a leading global real estate company listed in Singapore.
Key Objective
The Manager's key financial objectives are to provide unitholders of IREIT ("Unitholders") with regular and stable distributions, and the potential for sustainable long-term growth in distribution per Unit ("DPU") and net asset value ("NAV") per Unit, while maintaining an appropriate capital structure for IREIT.
Manager's Three-Pronged Strategy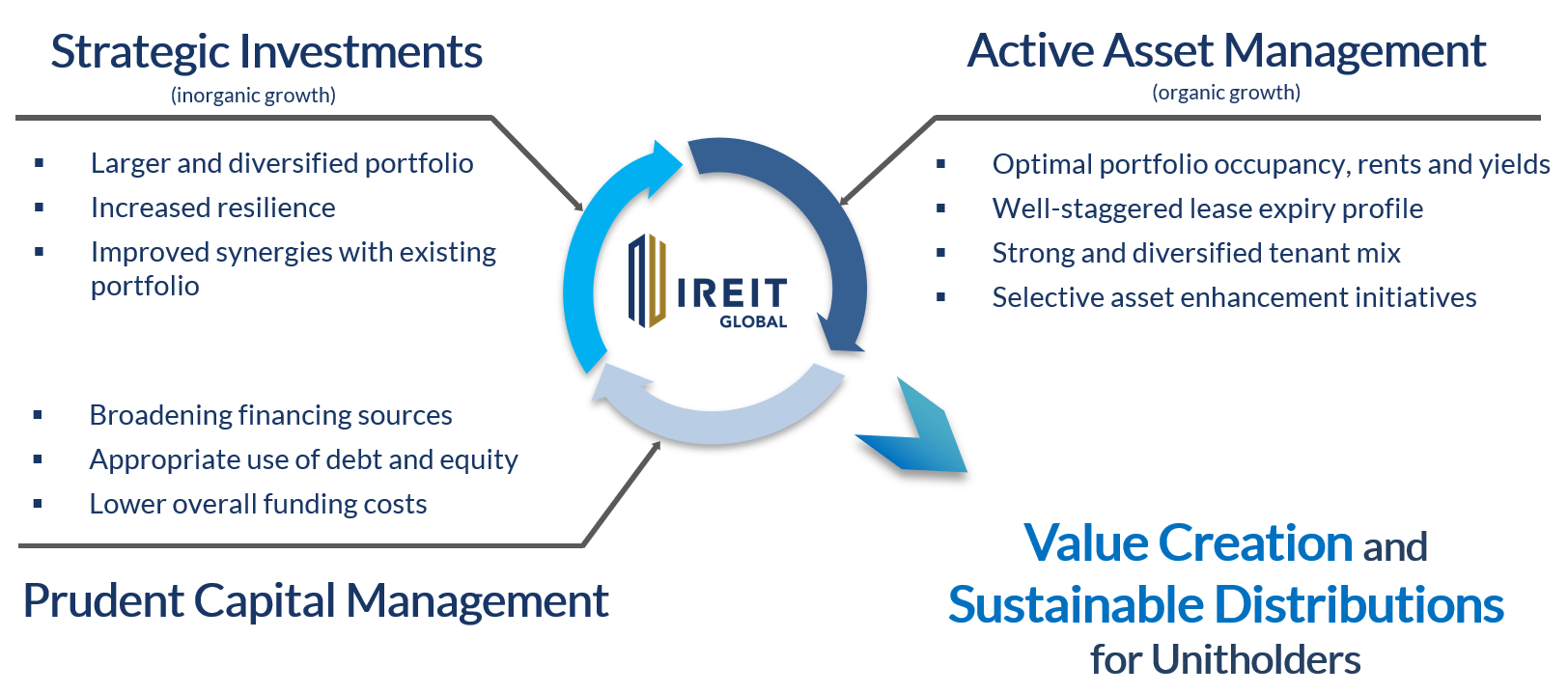 About Tikehau Capital
Tikehau Capital is a global alternative asset management group with €38.8 billion of assets under management as at 31 December 2022. Tikehau Capital has developed a wide range of expertise across four asset classes (private debt, real assets, private equity and capital markets strategies) as well as multi-asset and special opportunities strategies. Tikehau Capital is a founder led team with a differentiated business model, a strong balance sheet, proprietary global deal flow and a track record of backing high quality companies and executives.
Deeply rooted in the real economy, Tikehau Capital provides bespoke and innovative alternative financing solutions to companies it invests in and seeks to create long-term value for its investors, while generating positive impacts on society. Leveraging its strong equity base (€3.1 billion of shareholders' equity as at 31 December 2022), the firm invests its own capital alongside its investor-clients within each of its strategies.
Controlled by its managers alongside leading institutional partners, Tikehau Capital is guided by a strong entrepreneurial spirit and DNA, shared by its 742 employees across its 14 offices in Europe, Asia and North America. Tikehau Capital is listed in compartment A of the regulated Euronext Paris market (ISIN code: FR0013230612; Ticker: TKO.FP).
About City Developments Limited
CDL is a leading global real estate company with a network spanning 143 locations in 28 countries and regions. Listed on the Singapore Exchange, CDL is one of the largest companies by market capitalisation. Its income-stable and geographically diverse portfolio comprises residences, offices, hotels, serviced apartments, student accommodation, retail malls and integrated developments.
With a proven track record of 60 years in real estate development, investment and management, CDL has developed over 50,000 homes and owns around 21 million square feet of gross floor area in residential for lease, commercial and hospitality assets globally.
Along with its wholly-owned hotel subsidiary, Millennium & Copthorne Hotels Limited, CDL has over 150 hotels worldwide, many in key gateway cities.